If you have asked any of your friends, neighbors, or family members for advice while shopping around Clayton, GA for used cars, the topic of mileage has probably been the predominant topic. No matter what make, model, year, or condition you are considering, that mileage number is a very important factor. Some experienced shoppers go so far as to claim that it's the most important factor, but any blanket statement like that must come with a lot of exceptions, disclaimers, and clarifications. While you always want to consider mileage very carefully, here are some of the additional facts that you will want to keep in mind as you look at the many Clayton, GA used cars for sale:
Setting the Standards
First, it is a good idea to establish what we mean by "low mileage" and "high mileage." Obviously, these numbers are heavily affected by the age of the cars for sale that you're considering. 100,000 is a high number for a 3-year old car, but about average for a 10-year old car. An easy number to remember is 10,000 miles for every year of life; lower than that is a low mileage for that car. We immediately run into exceptions to that rule, however, because certain makes and models defy those standards. If an economy car commonly reaches 250,000 miles over its lifetime, you shouldn't be concerned if its mileage is a little higher than the standard of 10,000 miles per year.
New Transmission/Other Components
When we talk about high mileage, we are primarily concerned with the condition of the transmission. The other parts of the car also deteriorate with age, of course, but the transmission is the most important (and expensive!) system affected by high mileage. So, how does the situation change if a vehicle has fairly high mileage, but the transmission was recently replaced? Well, all else being equal, the high mileage "on paper" means much less because the transmission is brand new. That's one reason to avoid skipping over a vehicle you like just because the mileage is high.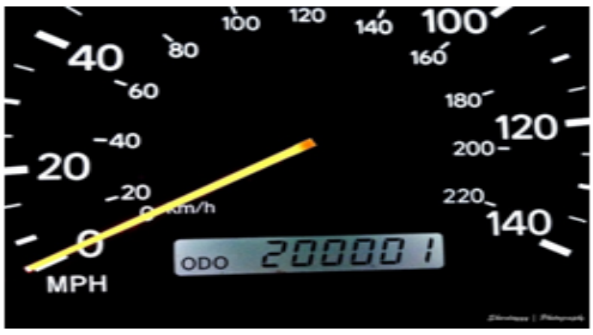 Low Mileage + Old Age = Trouble
Believe it or not, exceptionally low mileage can sometimes be a negative factor. In Clayton, GA, used cars that have been around for a long time but barely driven can cause a lot of problems for their new owners. Vehicles are not built to sit in a driveway; they are built to be driven on a consistent basis. Seals dry out, plastic becomes brittle, fluids harden inside engine components, and the damage caused by those problems might never be fully repaired. If you are considering older used cars for sale, go for a mileage closer to the average rather than exceptionally low.
If it Looks Too Good to be True…
The old advice from your parents holds true in car shopping! If you come across a deal that you can't believe someone else hasn't jumped on yet, there is a very small chance that you've stumbled on the deal of a lifetime…but it's much more likely that more experienced shoppers can see the problem that you are overlooking. Before you snap up that car with unbelievable mileage, have someone you trust look at the same information and tell you what they see. There are too many outside factors to list in this short blogpost, and any of them can become more important than low mileage in an individual situation.
Go With the Warranty
It's becoming much harder, in general, to find Clayton, GA used cars with low mileage. One way to achieve confidence in your purchase despite a higher mileage than you would like is to opt for a lifetime powertrain warranty. Our dealership now offers this incredible warranty on pre-ownedvehicles so that our customers can put concerns about engine and transmission replacement out of their mind for good. This guarantee opens up your options considerably, and removes many of the concerns that might ordinarily cause you to pass up on a higher-mileage car that you really like.
We would love for you to visit our Franklin, NC showroom, talk with one of our friendly representatives about our new and used cars for sale, and take a test drive today.