If you have never made our acquaintance here at Franklin Ford, we are glad to meet you! We like to think that the folks that visit our Franklin, Sylva, and Canton, NC Ford dealer get a car shopping experience that is quite a bit different from the "standard" one. For the past two years, we've gotten a strong confirmation of that fact, and we want to tell you about it in today's blogpost. Along with the testimonials of your North Carolina and northern Georgia neighbors, we have a couple of other great reasons for you to come by our showroom and meet us. Read on to find out what they are!
Best of Macon County (Still!)
In 2015, the readers of the Franklin Press voted for ours as the best new automobile dealership. In 2016, they gave us the award again, and we couldn't be more excited. We take this recognition very seriously, because we know that when it comes to choosing a Canton, NC Ford dealer, word of mouth is our very best sales rep. Your neighbors in Macon County have learned to trust us for both new and used car sales over the past fourteen years, and we hope that our repeat win in the Franklin Press gets the word out to even more folks about our friendly, honest, and expert sales service.
There are lots of reasons that our Macon County customers head for Franklin Ford when they are looking for a new vehicle, and we'll tell you about two of them below. But probably the number one reason is that they know they are going to have a great experience with our sales staff. Our sales reps make it a point to put each customer's unique set of needs first, listening to find out what those needs are and then using their thorough knowledge of our new and used vehicle inventory to pinpoint the right car and the right price.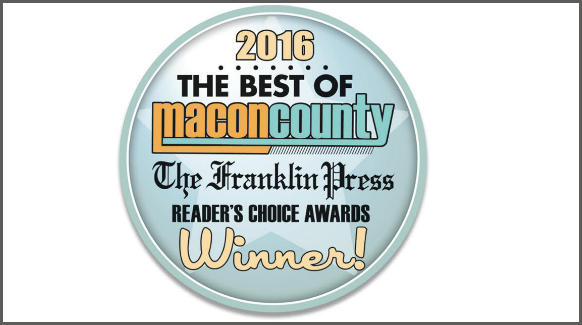 Unbeatable Deals
The price tag is a top consideration for any car shopper at a Canton, NC Ford dealer. The second of our great reasons to make Franklin Ford your destination for a new vehicle is the great Ford manufacturer's offers that you can always find here. At the moment, those offers include retail customer cash, 0.0% APR, and bonus cash on many of our most popular new Ford models. Whether you're looking for a new Expedition or Explorer for the family, a fuel-efficient Focus or Fusion, or the perennial favorite F-150, you are sure to find the overall best price here at Franklin Ford. You might even walk away with some money in your pocket! Our sales reps can walk you through the terms of each offer, put you behind the wheel of each Ford model for a test drive, and simplify the pricing for you so that you know exactly what your final cost is.
Great Service After the Sale
After you drive away from our Canton, NC Ford dealer in your new or pre-owned car, we hope to see you again for regular maintenance as well as more major service needs. Our service department has the same commitment to great customer service as our sales department, removing the hassle from getting your vehicle maintained the way it should be. In addition to that customer service, we also regularly feature special offers for brake service, batteries, oil changes-even new wiper blades! On our website, you'll find valuable rebates that can save you hundreds of dollars, and you can get the details on our new tire low price guarantee. With all of these savings, there's no reason to take your vehicle anywhere else for trustworthy, affordable service.
Your Canton, NC Ford Dealer
Our second consecutive "

best new automobile dealer

" award shows that Macon County car shoppers love us, but we also strive to be the favorite with shoppers from northern Georgia, Canton, Asheville, and the surrounding region. Our showroom is conveniently located in Franklin, NC, and we hope that you will stop by to test drive a new Ford, take a closer look at one of the pre-owned vehicles in our online inventory, or consult with our sales staff to find out which car is just right for you.