Every time you get into your car and turn the key, you exercise trust in your vehicle. It's impossible for you to predict what is going to happen around you when you hit the road, and when that unexpected incident occurs, you want to know that your vehicle is built to protect you as well as possible. Today, we cringe as we look back at the age before seatbelts, airbags, and car seats for children, and we appreciate the huge amounts of research and development that have gone into keeping us safe on the road today. Here are three of the most important recent developments in the field of vehicle safety-you can find all of them on display at Franklin Ford, Inc., your family-owned Canton, NC Ford dealer.
Airbags
The airbag, coupled with safety belts, forms a critical line of defense in a serious accident. Because of their importance, airbags continue to undergo improvements in the lab, and vehicle designers continually study to find out how they can utilize them to make a car's interior a safer place in every situation. Since the late 1990s, airbags have been required in all of the new cars sold at your Canton, NC Ford dealer, but recently manufacturers have been responding to the fact that not all traffic accidents are head-on collisions. Airbags mounted below the dashboard and even in the door panels of many newer vehicles help to prevent passengers from striking more hard surfaces inside the car even during a rollover-type accident.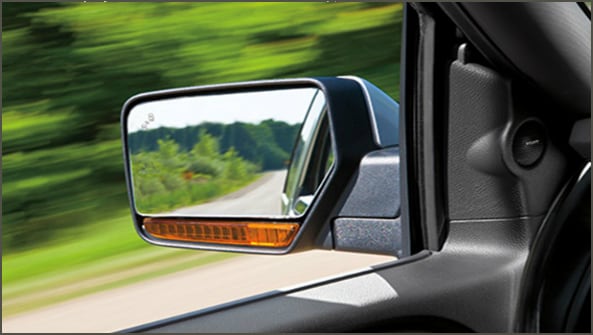 Voice-Activated Features
Unfortunately, some advances in technology-while contributing important safety features in their own right-create new dangers for drivers. Cell phones and GPS navigators are perhaps the two primary offenders in this area; when drivers remove their attention from the road to use one of these devices, they become unable to respond quickly enough to changing conditions, such as another car unexpectedly stopping or a pedestrian walking into the street. These challenges, in turn, have led to an exciting new technology that is optional for many of the vehicles in your Canton, NC Ford dealer's showroom. Voice activation has become so sophisticated that you can make and receive phone calls, set your GPS navigator, and even adjust your radio settings without ever taking your hands off the wheel or your eyes off the road.
Collision Alert and Camera Systems
Every vehicle at your Canton, NC Ford dealer has a blind spot-some larger than others, of course, but unless a car is made of completely transparent materials, there will always be some area outside the vehicle that the driver cannot see clearly. Cameras mounted on a vehicle's exterior seem high-tech today, but the rapid advance of this equipment is sure to make it standard issue on new vehicles before long.
Blind Spot Information System
The Blind Spot Information System, or BLIS®, is a simple yet potentially life-saving feature available on many of your Canton, NC Ford dealer's most popular models, including the Ford Expedition, Fusion, and Focus. A light on each rear-view mirror indicates when there is a vehicle in that side's blind spot, notifying the driver to avoid changing lanes until the coast is clear.
Cross-Traffic Alert
Backing out of a spot in a crowded parking lot or onto a busy street is a dangerous activity, but the Cross-Traffic Alert, also available in many new Ford models, makes it safer. With a range of about 15 yards, rear-mounted cameras detect approaching cars and alert the driver with lights and sound.
Active Park Assist
Accidents do not only happen at high speeds. Damage caused by misjudging distance when backing into a parking spot can raise insurance rates and ruin the otherwise beautiful appearance of your new car. Ford's Active Park Assist feature lets the vehicle sense its surroundings and helps the driver safely maneuver into that tight spot.
Visit Your Canton, NC Ford Dealer to Learn More
Visit Franklin Ford, Inc., your family-owned Canton, NC Ford dealer, to learn more about these and the many other features that have made today's vehicles safer than ever before. Test drive the model that best fits your family, from the fuel-efficient Fusion to the spacious Expedition, and find out why your neighbors come back to us again and again for vehicles and service.