The process of shopping for used cars in Waynesville, NC has been permanently transformed by the Internet. The global information network has placed an incredible amount of research power in the palm of the car shopper's hand, quite literally! With an Internet-enabled smartphone, the average car buyer is able to gather all the information he or she needs in order to go into the process with a high level of confidence. And here at Franklin Ford, we have done a lot to make the online research process even more convenient for our customers. On our website, you can not only browse through the best
used cars in Waynesville, NC
, but you can also get a credit report, calculate your payments, compare new and used Ford models, find out about special offers, and much more. Here's an overview of the many tools that make our website your one-stop resource when you need to start shopping for your family's next car.
Start with the Money
It's always a good idea to start looking for used cars in Waynesville, NC by figuring out what your budget is. There are two immensely useful tools on the Franklin Ford website to help you with that. The first is our credit estimator, which is a safe, free way for you to find out what kind of interest rate you can expect on a loan. Financial experts will tell you that it is a mistake to go to one of the car dealerships in Waynesville, NC with the assumption that you will be able to obtain a loan at a favorable interest rate without checking your credit first. Even if you are not aware of any recent activity that could have negatively impacted your credit, there could be recent fraudulent activity like identity theft, or credit problems in your past that you've forgotten about, that could be hurting your score. With a quick credit check on our website, you can avoid being blindsided later.
The other great financial tool on our website is the payment calculator. Once you know what kind of interest rate you can expect, you are ready to calculate your preferred monthly payment. Once you put in all the information, you'll get a price range that you can then use to identify which used cars in Waynesville, NC are within your budget. Now you're ready to start shopping!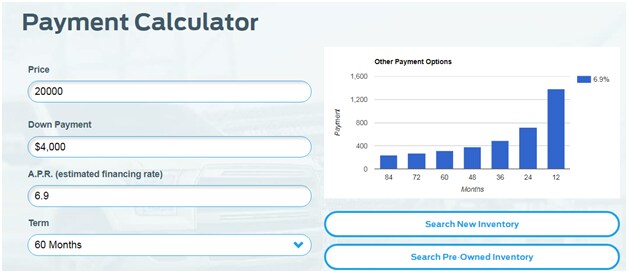 See What's Available
Whether you have your eyes on an exciting new Ford model or you're looking for something used that will accommodate your growing family, you can see all of our dealership's new and used cars near Waynesville, NC using our detailed vehicle research tools. Narrow the options down by price, miles per gallon, horsepower, body style, mileage, and other criteria to see the vehicles that best match your needs, and suddenly the car buying process seems much less scary and well within your capabilities. Of course, once you identify the vehicles you're most interested in, you'll want to talk about them with one of our expert sales representatives and take a test drive or two to get a firsthand look at how the different models drive and feel.
Find Your Bargain
At Franklin Ford, we're always offering special deals on new and used cars near Waynesville, NC. These deals are always coming in and out, so you'll want to check back often to see what special offers are on the table. These include cash back, mail-in rebates, Kelley Blue Book instant cash offers, and pre-owned models that are priced to sell at incredible discounts. Keep an eye on these special offers, and you just might come out much farther ahead than you expected to!
Go with the Local Experts
Once you have looked into your credit, established your price range, reviewed the various used cars in Waynesville, NC, and checked out the special offers currently available, it's time to visit our Franklin showroom and talk with our friendly, customer-focused sales staff. We genuinely love working with folks here in our neighborhood, matching them up with the perfect vehicles for their stage in life. So browse our website, make full use of the free resources available there, and we look forward very much to meeting you in person!